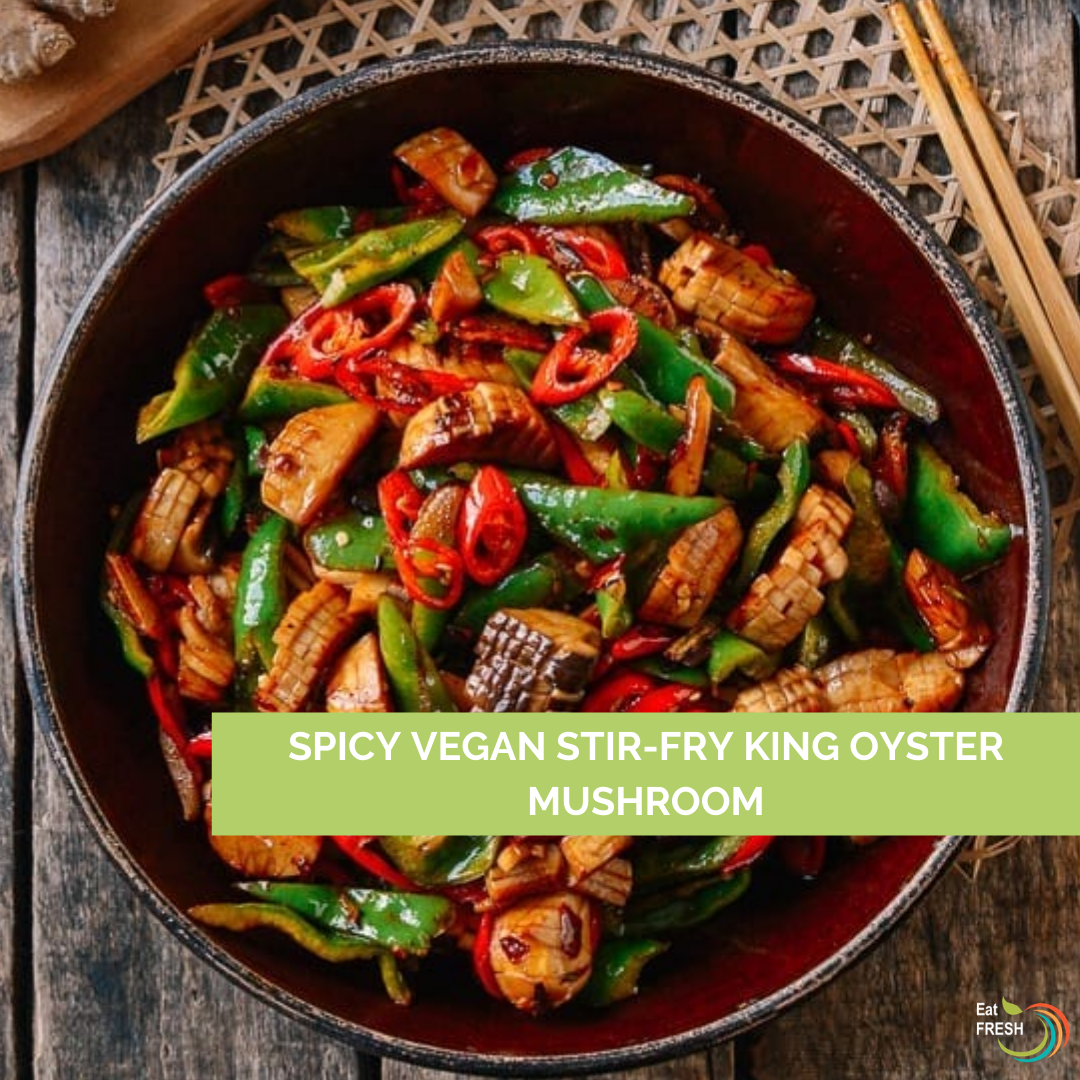 by

Martina Bin

29

Jan 2021
Spicy Vegan Stir-Fry King Oyster Mushroom
Ingredients:
1 pound king oyster mushrooms (450g)

5 tablespoons vegetable oil

6 slices ginger

8 cloves garlic (sliced)

1 tablespoon spicy bean sauce

1 tablespoon light soy sauce

1/2 teaspoon sugar

5 long hot peppers or thinly sliced sweet peppers 
Directions
Cut each mushroom in half lengthwise, place each mushroom half flat side down, and score with your knife lengthwise. Create deep slices, but without slicing through the mushroom completely. Make perpendicular cuts across the lengthwise cuts, also not slicing all the way through. Every third cut, slice through the mushroom to create ½ inch pieces. Next, heat 4 tablespoons of vegetable oil in a wok over high heat. Fry the mushrooms lightly in the oil until golden brown on one side. Then, flip and do the same thing to the other side. Fry until the mushrooms are tender. Once this is done, remove the mushrooms and put the heat on medium low. Add another tablespoon of oil to the wok, then add the ginger. Cook for 1 minute, then add the garlic and cook for 30 seconds. Stir in the spicy bean sauce and cook for 30 seconds. Add the mushrooms once again, as well as light soy sauce and ½ teaspoon sugar. Add the peppers and stir-fry everything together for another 2 minutes.