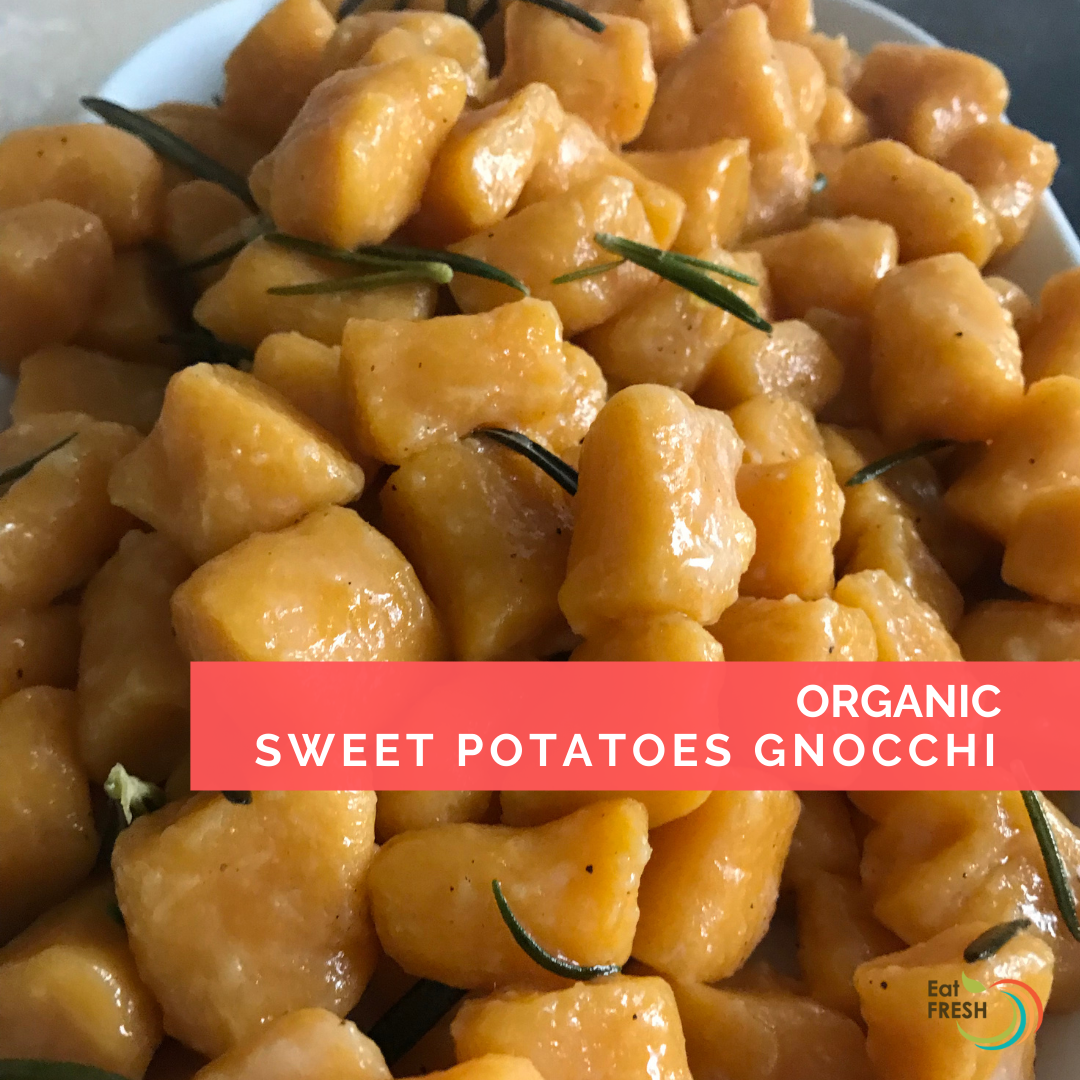 by

Martina Bin

23

Feb 2021
Sweet Potatoes Gnocchi
Ingredients:
3 Sweet potatoes
2 teaspoon of salt
60 grams of flour
2 tablespoons of butter
fresh rosemary
Directions:
Steam 3 peeled sweet potatoes until tender with a fork. Let it cool for 10 minutes and smash with a fork until smooth. Set aside.
In a bowl mix 2 cups of flour with 2 teaspoon of salt. Add the flour, ½ cup (60 grams) at a time to the potatoes, and fold until the dough comes together. You may not need to use the full 2 cups.
Turn the dough out onto a lightly floured surface and knead gently until a pliable dough is formed that is tender but not sticky when handled. Divide into 8 portions. Roll a dough portion into a ½-inch (1 ¼ cm) thick rope. Cut the rope into 1-inch (2.5 cm) pieces. Repeat with the remaining dough. If desired, roll each piece of gnocchi over the tines of a fork to create ridges.
Bring a medium pot of well-salted water to a boil over high heat. Working in batches, drop gnocchi into the boiling water and cook until they begin to float. Once they start floating at the surface, let cook for 30 seconds more, then transfer from the water with a slotted spoon to a plate and set aside.
In a medium pan, melt 2 tablespoons of butter until just beginning to bubble. Add fresh rosemary and half of the gnocchi, to avoid overcrowding the pan. Sauté for about 1 minute per side until the gnocchi are lightly toasted and well coated with butter and sage. Repeat with the remaining butter, sage, and gnocchi. Serve immediately with Parmesan cheese for garnish if desired.