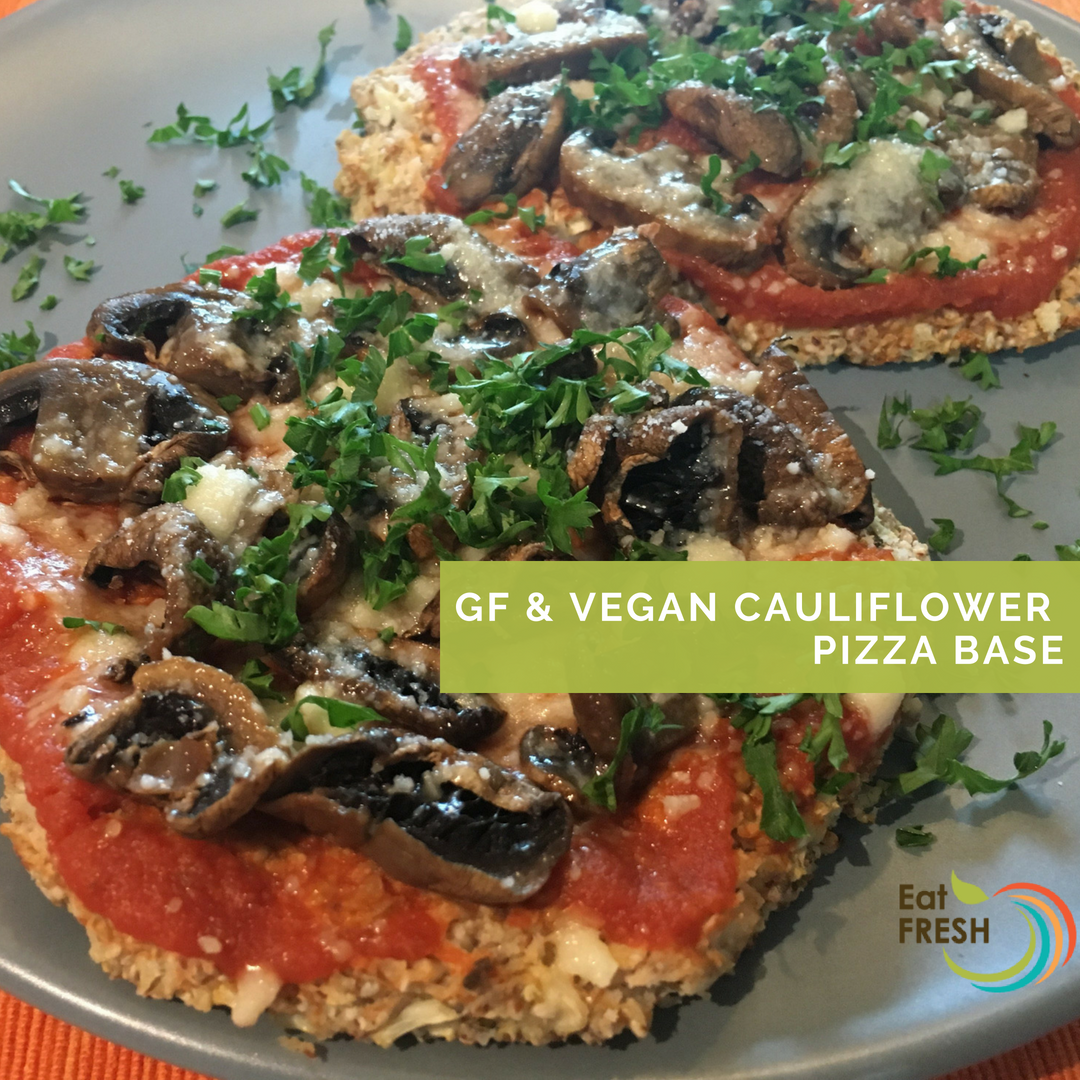 by

Martina Bin

10

Jul 2017
GF, Vegan Cauliflower Pizza Base/Crust
Cauliflower is one of my top favourite veggies, it is versatile, matching with different flavours and cooking methods (check our recipe blogs), and it is one of the best crucifers that can actively prevent and fight inflammations - the source of any disease, including cancer.
Cauliflower, despite his white colour, is packed with antioxidants, the 10th best source of Vitamin C, good source of Vitamin K, folate, Vitamin B6, omega-3 fats, manganese, phosphorus, potassium, magnesium, to name a few!
Lately, it has become my source of inspiration to create or simply test out recipes for gluten free pizza bases… because I love pizza but not so much gluten!
In this easy, nutritious and yummy recipe, the chia seeds substitute eggs as binder, so the result is a vegan, gluten-free pizza base… how awesome!
Chia seeds are another of my never-missing superfood in my diet: they are a great source of omega 3 fats, protein and fiber, super versatile and favour-less.. yes, it is the best point, you can add them to any recipe to boost your energy and metabolism, without worrying about their taste. The only important thing to remember is to always soak chia seeds, before consuming them, or you'll loose the benefits and end up feeling bloated... you don't want that!
Back to our tested recipe this week, you are going to enjoy this yummy pizza-like meal that is gluten free, vegan, free from processed ingredients and good!!!!
A special thanks to my incredible helper and partner in crime, Melba Losabia, who loves cooking and experimenting recipes with Eat FRESH veggies and products... and most of all never complains at my latest diet restrictions for fun or testing requests! These 2 lovely small cauliflower pizzas are made by her, topped with our homemade tomato sauce and mushrooms with a sprinkle of nutritional yeast flakes (for non-vegan option mozzarella or parmesan work great!).
Thank you, Melba!
Cauliflower Pizza Base Crust Recipe
Main Course
Ingredients:
1 Large head of Organic Cauliflower
3/4 cup of ground almonds, we used fresh, no soaked and blended almonds (if you happen to have almond flour it will work as well)
1 1/2 Tbsp Dried Oregano
Sea salt and pepper to taste
1/4 cup chia seeds
3/4 cup water to soak the chia seeds in
Method:
Preheat your oven to 200 Celsius (or 400 F)
Mix your chia seeds in with the 3/4 cup of water and place in your fridge 20 minutes before intended use.
Chop the cauliflower (RAW!!!), and place in a blender or food processor and blend until it is a fine rice-like texture. Make sure you squeeze out extra moisture afterwards. Check our raw cauliflower rice recipe here
Measure out around 3 cups and place into a large bowl, add in the ground almonds, oregano, salt, and pepper. Make a hole in the center and add in the Chia goop.
Combine the ingredients by hand and, and shape everything together into a ball. It should be loose and sticky not like a traditional dough.
Put the ball onto a baking tray and form into a flat crust with your hands. Make a ridge around the outside, and bake for 25 minutes or until golden brown.
Add your favorite tomato base, and toppings bake an additional 5-10 minutes and enjoy your healthy meal!
Recipe from
Healthy Holistic Living
This entry was posted in on July 10, 2017 by Eat FRESH.